The Los Angeles Story Tour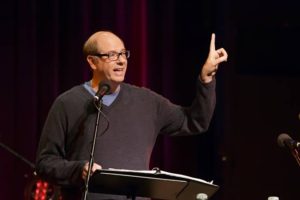 (Photo above by Jenine Baker, from Live Wire Radio.)
In the next few weeks, I will be performing  at several Los Angeles venues. I'll be telling stories from the new book, My Adventures with God, taking questions, and providing an opportunity to purchase signed books.
June 8th, At the Skirball Center, I'll read my stories "Eye the Monster" and "The Call."  Admission is free, but reservations are recommended.  Go here for details.  (Note this is an afternoon event.)
June 18th, a benefit for Theatre 40, a local professional company I've been a part of since the early '90's and my wife has been a member of since 1980.  All proceeds go to supporting this wonderful theatre; you'll get a hardcover book which I will sign and personalize as you wish. I will perform one of my favorites,  "The Afflictions of Love".  All the details are here – scroll down until  you see my name.
June 21st, an evening of wine, cheese and stories at Adat Ari El.  Tickets are free, but please RSVP so they can plan accordingly.  This evening I'll present the story "The Things We Saved From The Fire."  To RSVP and for the details for A Midsummer Night Steve event, please click here.
I'm looking forward to all three of these occasions, and I know you will enjoy yourself.  Please come!