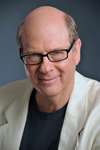 Stephen Tobolowsky is one of the leading character actors today. He has appeared in over 200 movies and television shows. Here is the list: Stephen Tobolowsky at IMDB for credits.
He has played everything from Ned Ryerson in Groundhog Day to Sandy Ryerson in Glee. He has appeared almost naked as Stu Beggs on Californication and has worn the same suit for seven years as Principal Earl Ball on The Goldbergs. Stephen currently appears as Dr. Leslie Berkowitz in the new generation remake of Norman Lear's One Day at a Time. Seasons 1-3, at present, are still available on Netflix.  PopTV and CBS aired Season 4.  Hopes are high for more episodes as soon as safe filming practices can be set in the pandemic era!
Please read here for the One Day at a Time journey.
Stephen has always been a storyteller. In sixth grade he won his school's storytelling contest and over that summer won the award as best storyteller in the City of Dallas (13 years old and under division.) That impulse led him into writing. He wrote the screenplay for True Stories with David Byrne and Beth Henley.
He wrote and performed his storytelling films Stephen Tobolowsky's Birthday Party and The Primary Instinct.
His labor of love has been The Tobolowsky Files, created with producer David Chen. What began as a behind-the-scenes movie podcast has become a sometimes funny, sometimes compelling portrait of a human life - as described by Miles McNutt here.
"The Tobolowsky Files" is available at tobolowskyfiles.com and on Apple Podcasts. Early episodes were also previously broadcast on KUOW 94.9 in Seattle, on WFPL in Louisville, KY and many stations through Public Radio International (PRI).
He has two books of stories published by Simon & Schuster: The Dangerous Animals Club and My Adventures with God.
Representation:
Steven Levy at Framework Entertainment
(310) 858-0333
David Rose at Innovative Artists
(310) 553-5200
Jud Laghi (Literary) at Jud Laghi Agency
(718) 285-0798
Calvin Spiker (Autograph Shows)
(908) 875-5516
Speaking Engagements:
Please contact me at [email protected]