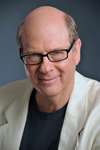 The entire back catalog of The Tobolowsky Files is now available for free download on Apple Podcasts or here.
Stephen shares true stories about life, love, and the entertainment industry. The stories are funny, profound, and moving. In his lifetime, Tobolowsky has played guitar with Stevie Ray Vaughn,  broken his neck riding a horse in Iceland, and went to get a pizza in a tornado - not to mention the fact that he's worked with directors like Harold Ramis, Christopher Nolan, Paul Verhoeven, and Ridley Scott, to name a few.
In the early days of the podcast, thanks to Program Director Jeff Hansen, it was  broadcast Sundays on KUOW in Seattle, WA.  WFPL in Louisville, KY also presented the Tobolowsky Files as part of their schedule.
The Tobolowsky Files on Apple Podcasts
The Tobolowsky Files at tobolowskyfiles.com
Check out our new YouTube channel to video versions of Stephen's stories!
By Request: Music Playlist for The Tobolowsky Files